Here you'll find the Westminster street sweeping schedule and related info… like the sweeping map, when holidays affect street sweeping, and what to do if you get a ticket.
Westminster is bordered by Huntington Beach, Fountain Valley, Garden Grove, Rossmoor, Stanton, and Seal Beach, and Santa Ana.
Note: If there's a change to your normal street sweeping schedule then there's likely also a change to your trash pickup schedule.
Westminster Street Sweeping Schedule
There are multiple ways to find your street sweeping schedule if you live in Westminster.
Check the signage posted on your street. You'll see white signs with red lettering describing when you must move your vehicle for street sweeping.

If you live on a public street (and the city is responsible for sweeping it) you can find your sweep day by visiting this city site: https://www.westminster-ca.gov/departments/public-works/maintenance-division/street-maintenance-sweeping

If you live in a private community, gated community, or homeowners association (HOA) then it's likely that your street cleaning is performed by a private sweeping company (not the city). Contact your HOA representative to find out the schedule.
Westminster Street Sweeping Map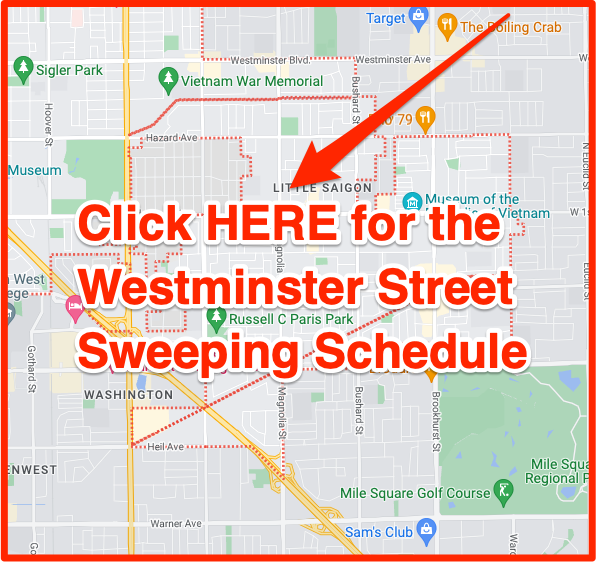 Holiday Schedule for Westminster Street Sweeping
Monday, February 20, 2023 Presidents Day
Monday, May 29, 2023 Memorial Day
Monday, July 4, 2023 Independence Day
Monday, September 4, 2023 Labor Day
Thursday, November 23, 2023 Thanksgiving Day
Friday, November 24, 2023 Day after Thanksgiving
Monday, December 25, 2023 Christmas Day (Observed)
City of Westminster Twitter Updates
Follow the city of Westminster on Twitter @WestminsterPIO for more updates
Due to the rain/holidays, citations for street sweeping have been suspended starting Dec. 23, 2021 & will resume on Mon., Jan. 3, 2022.

If you mistakenly receive a street sweeping citation during this timeframe, please disregard. @WestminsterPDCA will void the citation. pic.twitter.com/QdUWIgC0mi

— City of Westminster, CA (@WestminsterPIO) December 27, 2021
Frequently Asked Questions
What day is street cleaning in Westminster?
To find your street cleaning day visit https://www.westminster-ca.gov/home/showpublisheddocument/998/637405480083270000
What time does the sweeper pass?
Street sweeping takes place between 8am and 1pm in Westminster.
Does the street sweeper pass on rainy days?
It depends. If it's just a light rain, street sweeping MAY still take place. Days with heavy rain sweeping will be canceled.
How much is a parking ticket in Westminster?
Most parking tickets are $30 but may be more depending on the type of violation.
Get a Parking Ticket (Citation)?
Check out the free guide on how to get out of a street sweeping ticket.
Contact for Street Division
Contact: (714) 895-2876 or
Email: [email protected].
Did we miss something?
If you're looking for a street sweeping or cleaning schedule that isn't listed here, please let us know in the comments.
Also, occasionally our information gets out of date… if that happens, kindly let us know in the comments and we'll get the schedule updated. Thanks!