Here's where you can figure out the Diamond Bar street sweeping schedule and find out when your street is swept.
Streets are either swept on the first and third weeks of the month or the second and fourth weeks of the month.
Diamond Bar is bordered by the city of Walnut, Pomona, Chino Hills, and Rowland Heights. Be sure to check the schedule of those cities too if you live on the city border.
Diamond Bar Sweeping Schedule
Here's a link to the cleaning schedule: https://www.diamondbarca.gov/DocumentCenter/View/8414/2022-Street-Sweeping-Schedule-PDF
Diamond Bar Street Sweeping Map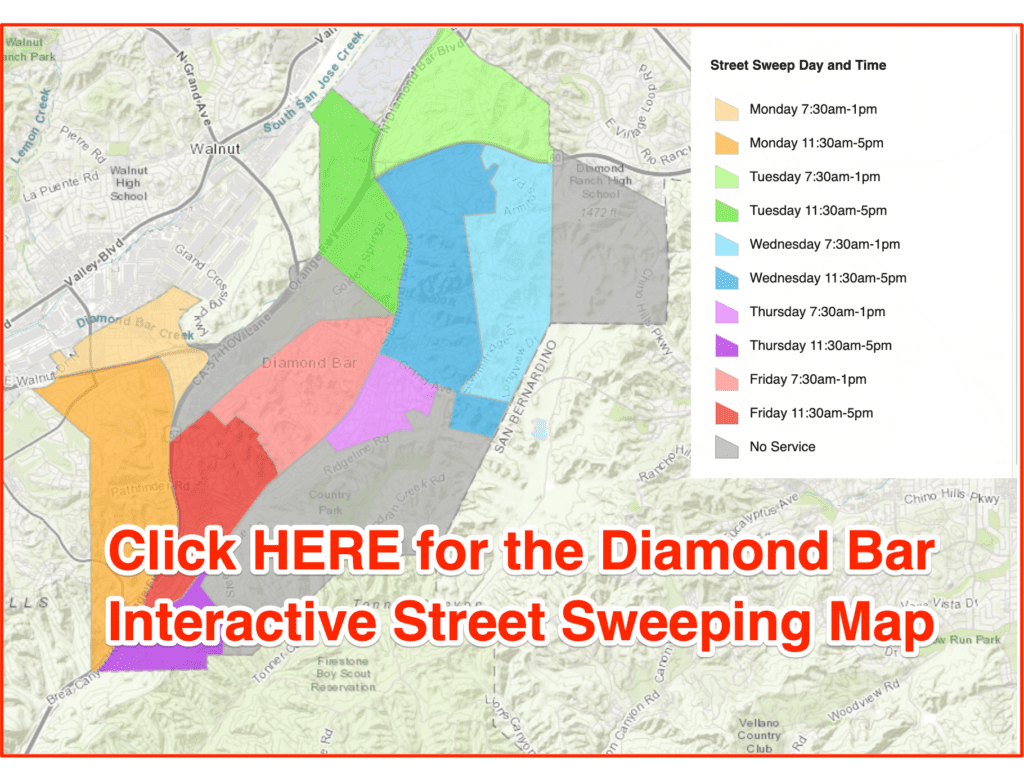 Holiday Schedule for Diamond Bar Street Sweeping
Monday, January 16, 2023 Martin Luther King Jr. Birthday
Monday, February 20, 2023 Presidents Day
Monday, March 27th 2023 Cesar Chavez Day
Monday, May 29, 2023 Memorial Day
Monday, July 4, 2023 Independence Day
Monday, September 4, 2023 Labor Day
Monday, October 9, 2023 Columbus Day
Friday, November 10, 2023 Veterans Day
Thursday, November 23, 2023 Thanksgiving Day
Friday, November 24, 2023 Day after Thanksgiving
Monday, December 25, 2023 Christmas Day (Observed)
City of Diamond Bar Twitter Updates
Occasionally the city posts updates about street sweeping and parking enforcement on Twitter. You can follow them @DiamondBarCity for more updates.
Street sweeping continues as scheduled, but the City is not enforcing neighborhood parking restrictions until the Stay-at-Home Order is lifted. If you're able to move your car on your designated street sweeping day, please do so to allow for more efficient removal of debris. pic.twitter.com/tui6smcE2g

— City of Diamond Bar (@DiamondBarCity) April 15, 2020
Diamond Bar Parking Enforcement
Get a Sweeping Ticket (Citation)?
Contact for Public Works
Phone: (909) 839-7060
Did we miss something?
If you're looking for a street sweeping or cleaning schedule that isn't listed here, please let us know in the comments.
Also, occasionally our information gets out of date… if that happens, kindly let us know in the comments and we'll get the schedule updated. Thanks!