Here you'll find the Long Beach street sweeping schedule as well as maps, holiday schedules, what to do about parking tickets, and street sweeping jobs.
The City of Long Beach is a part of Los Angeles County and is North West of Orange County.
Whether you live in LB or are just passing through, here's all the details you need to make sure you don't get a parking ticket.
Long Beach Street Sweeping Schedule
The best way to find the street sweeping schedule for your street is to use the interactive map that we've linked to below.
You'll be able to enter your address and it will tell you the street sweeping days and times. Additionally it will also tell you general information about Long Beach such as the zoning, governing board, police and fire information, and the location of lots of community facilities.
To find out when your specific street is swept, use this interactive map provided by the City of Long Beach: https://tsdgis.longbeach.gov/MapIt/
Long Beach Street Sweeping Schedule Map
Below is the Long Beach street sweeping map. Click on the map and enter your address.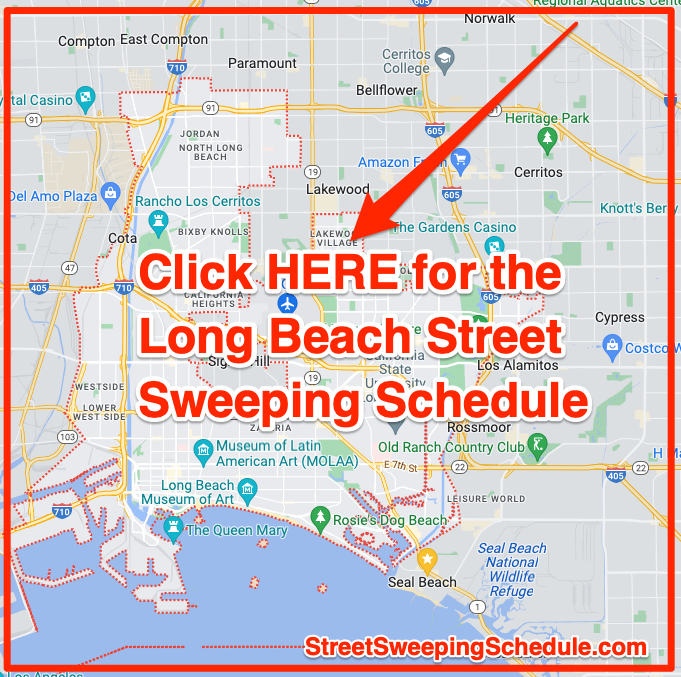 Long Beach Street Sweeping Holidays
Street sweeping is not enforced on the following scheduled days:
Friday, December 31, 2021 New Year's Day (Observed)
Monday, January 16, 2023 Martin Luther King Jr. Birthday
Monday, February 20, 2023 Presidents Day
Friday, April 15, 2023 Good Friday
Monday, May 29, 2023 Memorial Day
Friday, June 17, 2023 Juneteenth (Observed)
Monday, July 4, 2023 Independence Day
Monday, September 4, 2023 Labor Day
Monday, October 9, 2023 Columbus Day
Tuesday, November 8, 2023 Election Day
Thursday, November 23, 2023 Thanksgiving Day
Friday, November 24, 2023 Day after Thanksgiving
Monday, December 25, 2023 Christmas Day (Observed)
The city also notes that the painted curbs are ALWAYS enforced. Red, White and Blue curbs are always in affect.
If you get a street sweeping ticket or any other parking violation (like at a meter) you can contest the citation.
LBC Public Works Twitter Account
If you use twitter, I suggest you follow @LBPublicWorks to get timely updates to what's happening in the city. They often post updates about holidays, street sweeping updates, and more.
REMINDER: ⚠️ Today (6/21), there will be no street sweeping or enforcement of street sweeping violations. All other parking laws will still be enforced. Refuse & recycling will be collected on its normal schedule.

❌ Street Sweeping
✔️ Refuse & Recycling pic.twitter.com/iU5194BktV

— LB Public Works (@LBPublicWorks) June 21, 2021
Zip codes in LB that are part of the sweeping schedule
The following zip codes are included for Long Beach street sweeping schedule:
90715
90716
90740
90712
90755
90801
90802
90803
90804
90805
90806
90807
90808
90809
90810
90812
90813
90814
90815
90822
90831
90832
90833
90834
90835
90840
90842
90844
90846
90847
90848
90853
90899
Street Sweeping Jobs in Long Beach
The best way to find a street sweeping job in LBC is through the city's job opportunities page" https://www.governmentjobs.com/careers/longbeach
I also found this job requirements pdf for street sweeper operators: https://www.longbeach.gov/globalassets/civil-service/media-library/documents/job-opportunities/job-bulletins/motor-sweeper-operator-10-20
You can also find hiring opportunities via websites like ziprecruiter.com or sweeperjobs.com
Did we miss anything?
We do our best to provide the most accurate and up to date information for everything related to Long beach street sweeping so if we missed anything for need to correct something please let us know in the comments.