You're in the right place to find all the Santa Monica street sweeping information for like maps, schedules, holidays, tickets, jobs and more.
Santa Monica is a coastal town in Los Angeles and is north of Huntington Beach, south of Santa Barbara and west of Culver City.
Note: If there's a change to your normal street sweeping schedule then there's likely also a change to your trash pickup schedule.
Santa Monica Sweeping Schedule
According to the City of Santa Monica, starting on Monday August 30th, 2021 street sweeping will return to once a week.
Follow the NO PARKING signs posted on the street for the weekly schedule OR view the map linked to below.
Use this interactive map to find out which day of the week street sweeping happens on your street: https://samomap.santamonica.gov/Html5Viewer/index.html?viewer=SaMoMAP_Public.Viewer#sweeping
Santa Monica Street Cleaning Map
The city uses alternate side street parking and you can find a list of the schedule map below.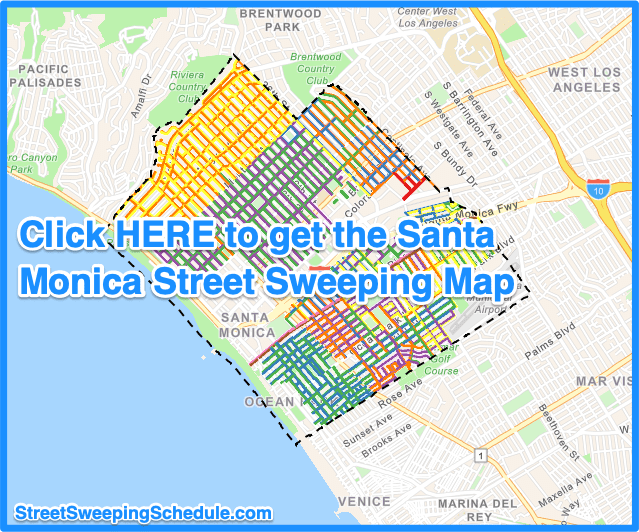 Santa Monica Street Sweeping Holidays
The Santa Monica holidays that impact street sweeping can be found here: https://www.santamonicapd.org/content.aspx?id=12783
Parking enforcement for street cleaning will not be enforced on the following Santa Monica parking holidays:
Friday, December 31, 2021 New Year's Day (Observed)
Monday, January 16, 2023 Martin Luther King Jr. Birthday
Monday, February 20, 2023 Presidents Day
Monday, May 29, 2023 Memorial Day
Monday, July 4, 2023 Independence Day
Monday, September 4, 2023 Labor Day
Thursday, November 23, 2023 Thanksgiving Day
Friday, November 24, 2023 Day after Thanksgiving
Monday, December 25, 2023 Christmas Day (Observed)
Enforcement for parking rules BESIDES street sweeping are still enforced.
More parking enforcement information can also be found on this page:
https://www.smgov.net/Departments/PCD/Transportation/Motorists-Parking/Enforcement/
Santa Monica Street Twitter Updates
Street Sweeping Department Contact Information
Phone: (866) 311-7266
Email: [email protected]
Online: Submit a 311 Request
How to pay parking ticket in Santa Monica
If you get a parking ticket, the easiest thing to do is to pay it. You can pay the citation online here:
https://wmq.etimspayments.com/pbw/include/santamonica/input.jsp
If you'd like to contest the ticket you can do so in person, via mail, or via telephone. Here's more information on how to contest the ticket: https://www.santamonicapd.org/content.aspx?id=13007
Check out our free guide on how to contest a parking ticket.
Street Sweeping Jobs in Santa Monica
Santa Monica Postal Codes
90401, 90402, 90403, 90404, 90405, 90406, 90407, 90408, 90409, 90410, 90411