Here you'll find the Santa Ana street sweeping schedule and related info… like the sweeping map, when holidays affect street sweeping, and what to do if you get a ticket.
Santa Ana is bordered by the city of Orange, Tustin, Irvine, Costa Mesa, Fountain Valley, and Garden Grove.
Note: If there's a change to your normal street sweeping schedule then there's likely also a change to your trash pickup schedule.
Santa Ana Street Sweeping Schedule
It's illegal to park on the street during scheduled sweeping times so it's important to know when that is. There are a few ways to get the current schedule.
Firstly, use the posted signs on your street.
Secondly, you can use the interactive map and input your address to find the cleaning schedule
Santa Ana Street Sweeping Map
Click the color-coded map below to find the day that your street is swept.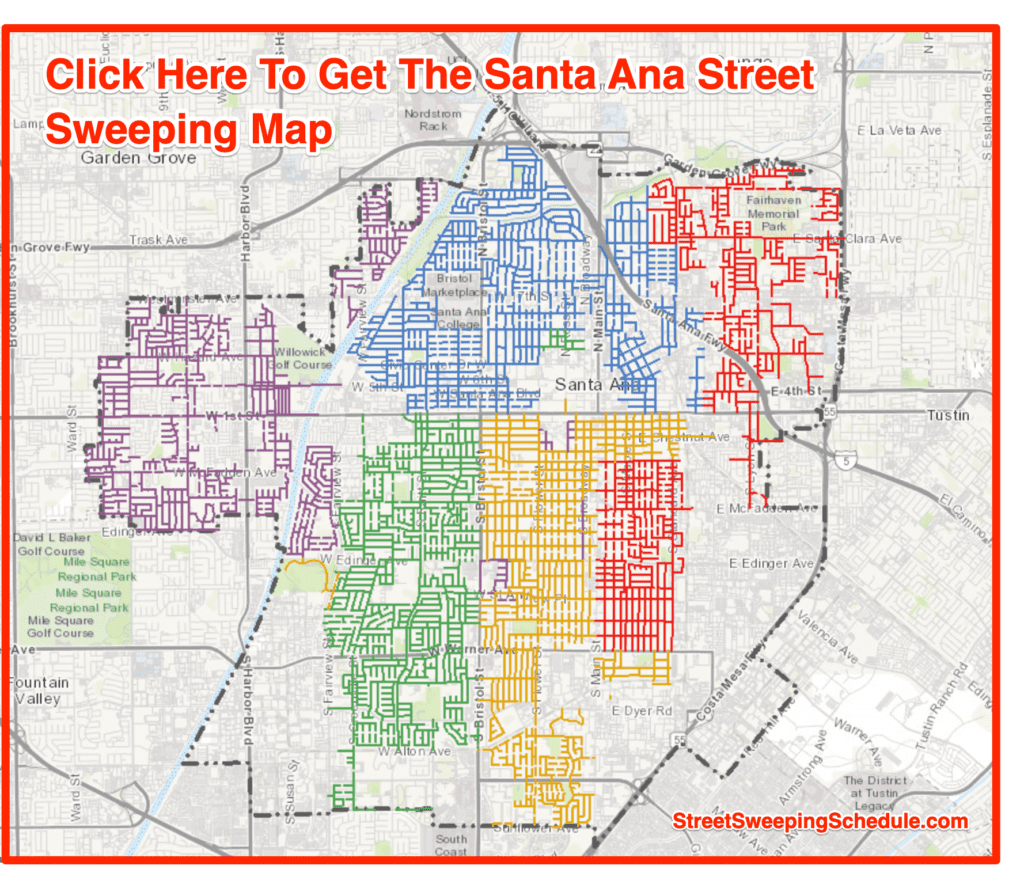 Holidays that affect Street Sweeping
The following holidays will not have street sweeping. If you have questions you can contact the Public Works Department at (714) 647-3380.
New Year's Day
Martin Luther King's Birthday
President's Day
Memorial Day
Independence Day
Labor Day
Veteran's Day
Thanksgiving Day
Friday after Thanksgiving Day
Christmas Eve
New Years Day
City of Santa Ana Twitter Updates
If you're on Twitter, a simple way to get updates is to follow @CityofSantaAna for all things related to the city.
Santa Ana City Hall Closed for Labor Day on Sept. 6; Street Sweeping is Canceled, Trash Pickup Delayed One Day

Learn more: https://t.co/LAN3SwUARf#CityofSantaAna pic.twitter.com/mw0K4monHe

— City of Santa Ana (@CityofSantaAna) September 2, 2021
Get a parking ticket on Sweep Day in Santa Ana?
If you got a parking citation in Santa Ana and just want to pay the ticket, you can do so at https://www.santa-ana.org/pd/parking-enforcement-and-ticket-information
If you want to contest the ticket, you can do so online at https://www.citationprocessingcenter.com/ but you must do it within 21 days of receiving your ticket so don't wait!
Also, check out our free guide on how to get out of parking ticket.
Santa Ana Street Sweeping Jobs
If you'd like to get a job as a street sweeper driver or operator there are a few places you can check.
The first is directly with the city https://www.governmentjobs.com/careers/santaana
Secondly, you can check to see if any private companies are hiring drivers to work for them.
https://www.ziprecruiter.com/Jobs/Street-Sweeper/-in-Santa-Ana,CA
Frequently Asked Questions
What time does the street sweeper pass in santa ana?
The Santa Ana street sweeper comes between 7am and 5pm.
How much is a street sweeping ticket in santa ana?
A sweeping ticket is between $60-$80.
Did we miss anything?
We do our best to keep this information accurate and up to date. If we made any mistakes for Santa Ana or any other city, please let us know in the comments and we'll do our best to correct it.