Here you'll find the Berkeley street sweeping schedule and related info… like the sweeping map, when holidays affect street sweeping, and what to do if you get a ticket.
Berkeley is a city in Northern California that's north of Oakland and east of San Francisco.
If there's a change to your street cleaning schedule then there's a good chance your trash pickup schedule has changed too so make sure to check for updates.
Berkeley Street Sweeping Schedule
There are multiple ways to find your street sweeping schedule if you live in Berkeley.
Check the signage posted on your street. You'll see white signs with red lettering describing when you must move your vehicle for street sweeping.

If you live on a public street (and the city is responsible for sweeping it) you can find your sweep day by visiting this interactive Map: https://berkeleyca.gov/city-services/streets-sidewalks-sewers-and-utilities/street-sweeping

If you live in a private community, gated community, or homeowners association (HOA) then it's likely that your street cleaning is performed by a private sweeping company (not the city). Contact your HOA representative to find out the schedule.
Berkeley Street Sweeping Map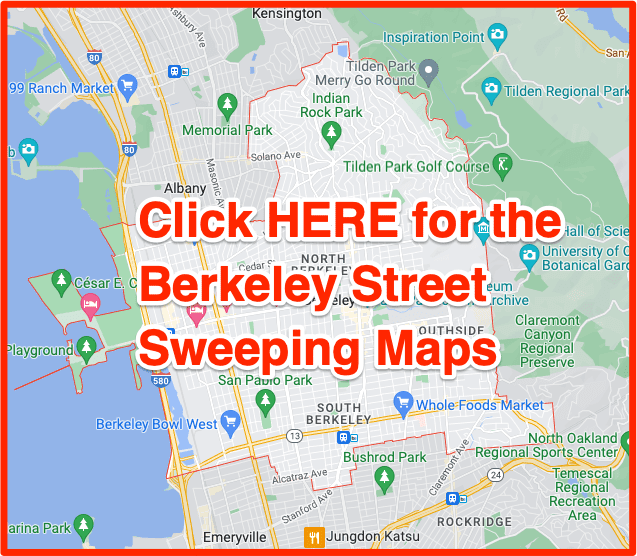 Holiday Schedule for Berkeley Street Sweeping
Here's the City of Berkeley Holidays:
Monday, January 16, 2023 Martin Luther King Jr. Birthday
Monday, February 20, 2023 Presidents Day
Monday, May 29, 2023 Memorial Day
Monday, July 4, 2023 Independence Day
Monday, September 4, 2023 Labor Day
Monday, October 9, 2023 Columbus Day
Friday, November 10, 2023 Veterans Day
Thursday, November 23, 2023 Thanksgiving Day
Friday, November 24, 2023 Day after Thanksgiving
Monday, December 25, 2023 Christmas Day (Observed)
If there's a change to your street sweeping schedule then there's likely also a change to your trash pickup schedule.
City of Berkeley Twitter Updates
Follow the city of Berkeley on Twitter @CityofBerkeley for more updates
As students move out, plan ahead to help keep our streets and sidewalks clean: https://t.co/loTtz220iF pic.twitter.com/KQIMrblSKA

— City of Berkeley (@CityofBerkeley) April 30, 2019
Did we miss something?
If you're looking for a street sweeping or cleaning schedule that isn't listed here, please let us know in the comments.
Also, occasionally our information gets out of date… if that happens, kindly let us know in the comments and we'll get the schedule updated. Thanks!