You're in the right place to find Newport Beach street sweeping schedule as well as maps, holidays, ticketing information as well as jobs.
Newport Beach is bordered by Huntington Beach and Costa Mesa so it's important you know when you cross over from one city to the next because the sweeping schedule changes.
This little town is north of San Clemente and home to some of the best surfing in southern California.
Newport Beach Street Sweeping Schedule
Here's the schedule for street sweeping in Newport Beach CA.
https://www.newportbeachca.gov/government/departments/utilities/street-sweeping
There are a few things that you can do to help the street sweeper pick up more debris. The city suggests…
Make sure there are no large pools of standing water along the gutter.
Do not pile or "mound" debris such as leaves in the gutter.
Pull in sports equipment like basketball hoops and soccer nets.
Newport Beach Interactive Street Sweeping Map
Click the map below and enter your address to find your exact sweeping schedule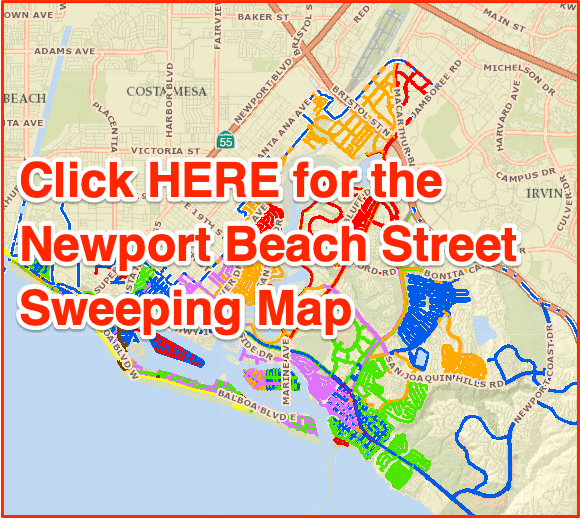 Holidays that affect street sweeping in Newport
Below are the Newport Beach street sweeping holidays:
Friday, December 31, 2021 New Year's Day (Observed)
Monday, January 16, 2023 Martin Luther King Jr. Birthday
Monday, February 20, 2023 Presidents Day
Friday, April 15, 2023 Good Friday
Monday, May 29, 2023 Memorial Day
Friday, June 17, 2023 Juneteenth (Observed)
Monday, July 4, 2023 Independence Day
Monday, September 4, 2023 Labor Day
Monday, October 9, 2023 Columbus Day
Tuesday, November 8, 2023 Election Day
Friday, November 10, 2023 Veterans Day
Thursday, November 23, 2023 Thanksgiving Day
Friday, November 24, 2023 Day after Thanksgiving
Monday, December 25, 2023 Christmas Day (Observed)
Did we miss anything?
We do our best to keep this information up to date. Use at your own risk. If any of this information is wrong, please let us know in the comments if you'd like us to correct or add any additional information about street sweeping details for Newport Beach, CA.