Here you'll find the City of Garden Grove street sweeping schedule and related info… like the sweeping map, when holidays affect street sweeping, and what to do if you get a ticket.
Garden Grove is bordered by the city of Santa Ana, Westminster, Stanton, Orange, and Anaheim.
If you live on or park near the border of Garden Grove and one of these other cities, make sure you check out the sweeping schedule for those cities too.
Table of Contents
Garden Grove Street Sweeping Schedule
The schedule for sweeping takes place Monday through Friday on either the 1st & 3rd week or the 2nd & 4th week of the month.
To find schedule, refer to the map below. Unfortunately the city does not guarantee the accuracy of the map so please check the posted street signs to avoid citation.
Garden Grove Street Sweeping Map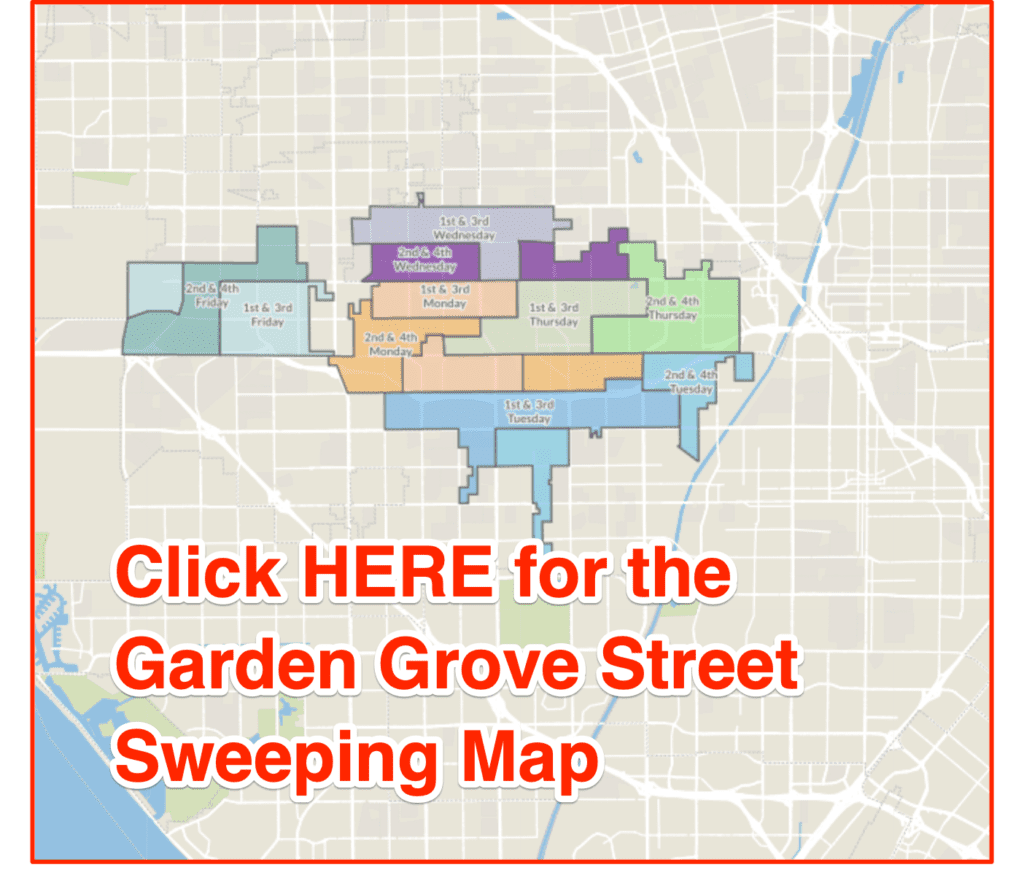 Holiday Schedule for Garden Grove Street Sweeping
Streets will not be swept on these holidays:
Monday, January 16, 2023 Martin Luther King Jr. Birthday
Monday, February 20, 2023 Presidents Day
Monday, May 29, 2023 Memorial Day
Monday, July 4, 2023 Independence Day
Monday, September 4, 2023 Labor Day
Monday, October 9, 2023 Columbus Day
Friday, November 10, 2023 Veterans Day
Thursday, November 23, 2023 Thanksgiving Day
Friday, November 24, 2023 Day after Thanksgiving
Monday, December 25, 2023 Christmas Day (Observed)
If a city-recognized holiday falls on your regular sweep day, it is canceled. It will not be made-up and sweeping will resume on your next regular scheduled sweep day.
City of Garden Grove Twitter Updates
Follow the City of Garden Grove on twitter at @CityGardenGrove for more updates
In observance of the Memorial Day holiday, Garden Grove City Hall will be closed on Monday, May 29, 2022. Street sweeping services and the issuance of street sweeping parking citations will not take place that day. Trash pick-up will be delayed by one day. #gg1956 pic.twitter.com/69HVbQsINZ

— City of Garden Grove (@CityGardenGrove) May 27, 2022
Garden Grove Parking Enforcement
What time does the sweeper pass?
In Garden Grove, street sweeping takes place between 8 a.m. to 4 p.m. in residential areas and 5 a.m. to 9 a.m. on arterial streets.
Does the Street Sweeper Pass on Rainy Days?
Get a Parking Ticket (Citation)?
Citations (parking only) may be paid by one of the following methods:
Mail the citation with a check or money order in the provided envelope to the City of Garden Grove, P.O. Box 409 Tustin, CA 92781-0409.
Pay in person during business hours at
City Hall, 11222 Acacia Parkway.
Pay in person during business hours at the
Municipal Service Center at 13802 Newhope Street.
Place in the drop box in front of City Hall.
Contact for Public Works Division
The phone number for public works is (714) 741-5375
Street Sweeping Jobs & Careers in Garden Grove
To find a career working for the City of Garden Grove, you can check their current job openings here: https://www.governmentjobs.com/careers/gardengrove
There are currently no street sweeping jobs posted.
Did we miss something?
If you're looking for a street sweeping or cleaning schedule that isn't listed here, please let us know in the comments.
Also, occasionally our information gets out of date… if that happens, kindly let us know in the comments and we'll get the schedule updated. Thanks!