Here you'll find the Orange street sweeping schedule and related info… like the sweeping map, when holidays affect street sweeping, and what to do if you get a ticket.
Orange is bordered by the city of Santa Ana, Garden Grove , Tustin and Anaheim.
If you live on or park near the border of Orange and one of these other cities, make sure you check out the sweeping schedule for those cities too.
UPDATE Street Sweeping Enforcement Resumed March 29th 2021
While there was a temporary stay on parking violations in Orange, CA during Covid lockdown, the City of Orange has resumed giving out parking ticket citations. Cars parked on the street during sweeping will now start getting tickets again.
Holidays that impact street cleaning in Orange
According to CR&R Services are not performed on the following holidays:
New Year's Day
Memorial Day
Independence Day
Labor Day
Thanksgiving Day
Christmas Day
In the event of heavy rain or high winds, street sweeping may not happen. Call CR&R at (714) 372-8272 for updates.
Official City Website: https://crrwasteservices.com/services/street-sweeping/city-orange-street-sweeping/
If there's a change to the street sweeping schedule then it's a good idea to check your trash schedule since that may have changed too.
Orange Street Sweeping Map
Click on the map below to see your scheduled sweep day…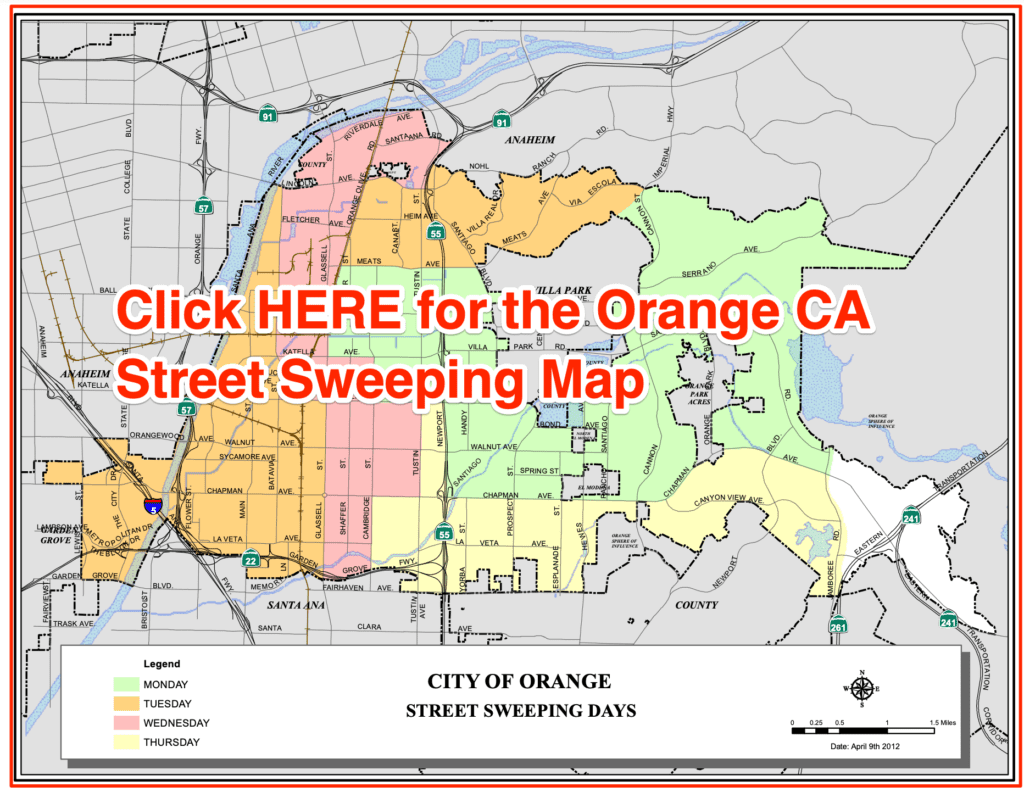 It's always important to keep in mind to:
Move cars and trucks off the street during the posted street sweeping days and times
Pull in all trash containers and any sports equipment such as basketball hoops or soccer nets.
Please don't blow your lawn clippings into the street. Sweep them up and put them in the green waste bin provided by the city.
City of Orange Twitter Updates
Follow the City of Orange on Twitter @CityOfOrangeCA for more updates
Street Sweeping Canceled 3/28/22

Due to rain, street sweeping has been canceled today. Weather permitting, sweeping will resume tomorrow on its regular schedule. pic.twitter.com/ExApyCDT2s

— City of Orange (@CityOfOrangeCA) March 27, 2022

Orange Street Sweeping Jobs
To find a street sweeping job in the city of Orange there are a few places you can check. You can go directly to the company that sweeps the city which is CR&R and go to their careers page: https://crrwasteservices.com/careers/
You can also look for other private companies by looking on ziprecruiter or going to sweeperjobs.com
Zip Codes: 92856,92857,92859,92862,92863,92864,92865,92866,92867,92868,92869
How did we do?
We try to post the most accurate and up to date information about street sweeping so if we made a mistake or something needs updated, please let us know in the comments
Thanks!