Moreno valley is located in Riverside County, CA and if you continue reading I'll show you how you can figure out the street sweeping schedule for your area.
According to the city, the sweeper sweeps approximately 18,000 curb miles per year. That's like sweeping from Los Angeles to New York City and back 3 times!
Moreno Valley Street Sweeping Schedule & Map 2022
The city has a few suggestions for residents:
Avoid piling leaves or other debris in the street or gutter.
Don't rake, sweep, blow leaves or other debris in the street or gutter.
Keep palm fronds and long twigs and branches out of the street or gutter.
Remove portable basketball hoops and RV access ramps from the street or gutter.
Here's the interactive street sweeping schedule map for Moreno Valley (it's much easier to use on a desktop or laptop than on your mobile phone): https://moval.geocortex.com/Html5Viewer/index.html?viewer=comv_hv
City Website: http://www.moreno-valley.ca.us/resident_services/streetsweeping.shtml
Note: If there's a change to your normal street sweeping schedule then there's likely also a change to your trash pickup schedule.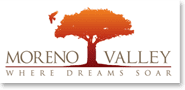 Holidays that affect street cleaning
Friday, December 31, 2021 New Year's Day (Observed)
Monday, January 16, 2023 Martin Luther King Jr. Birthday
Monday, February 20, 2023 Presidents Day
Friday, April 15, 2023 Good Friday
Monday, May 29, 2023 Memorial Day
Friday, June 17, 2023 Juneteenth (Observed)
Monday, July 4, 2023 Independence Day
Monday, September 4, 2023 Labor Day
Monday, October 9, 2023 Columbus Day
Tuesday, November 8, 2023 Election Day
Friday, November 10, 2023 Veterans Day
Thursday, November 23, 2023 Thanksgiving Day
Friday, November 24, 2023 Day after Thanksgiving
Monday, December 25, 2023 Christmas Day (Observed)
Moreno Valley Parking Tickets
If you get a Moreno Valley parking ticket for street sweeping, there are a number of ways you can pay the citation
In Person
Moreno Valley City Hall
14177 Frederick Street
Moreno Valley, CA 92553
Please note that administrative citations cannot be paid in person at City Hall.
By Mail
Administrative Citations
Send payment to:
City of Moreno Valley
P.O. Box 7275
Newport Beach, CA 92658-7275
Parking Tickets
Send payment to:
Citation Processing Center
P.O. Box 10479
Newport Beach, CA 92658-0479
By Phone

800.989.2058.
Online:
Frequently Asked Questions
How much is a street sweeping ticket in Moreno Valley?
A parking ticket is usually between $35 and $90 depending on the violation.
What time does street sweeper come?
Street sweeping starts at 7 AM and ends at 2 PM. The sweeper may come anytime in that window.
Does the sweeper pass when it's raining?
According to the city, street sweeping may or may not occur on rainy days. If the streets are too wet, sweepers cannot remove debris. It is advised that you always move your vehicle in accordance with the posted street sweeping signs.
Street Sweeping Jobs in Moreno Valley
If you'd like become a Moreno Valley street sweeper the best place to check for job openings is through their career page.
https://moval.gov/departments/hr/index.html
To work for a private company you can look for job openings on sweeperjobs.com or ziprecruiter.com
If you can't find any job openings you can look at surrounding cities by checking out our post on Riverside street sweeping
Did we miss anything?

We do our best to keep this information up to date. Use at your own risk. If any of this information is wrong, please let us know in the comments if you'd like us to correct or add any additional information about street sweeping details for Moreno Valley, CA
Moreno Valley Postal Codes
92551, 92552, 92553, 92554, 92555, 92556, 92557