Here you'll find the City of Torrance street sweeping schedule and related info… like the sweeping map, when holidays affect street sweeping, and what to do if you get a ticket.
Torrance is bordered by the city of Redondo Beach, Palos Verdes, Lomita, Carson, Gardena, and Lawndale.
Note: If there's a change to your normal street sweeping schedule then there's likely also a change to your trash pickup schedule.
Torrance Street Sweeping Schedule
In Torrance the streets are swept Monday through Thursday from 8am to 5pm. The schedule is also split into Even and Odd addresses depending on the day of the week.
Here's the link to the city page to help you find the schedule for your address: https://www.torranceca.gov/our-city/public-works/street-sweeping
Torrance Street Sweeping Map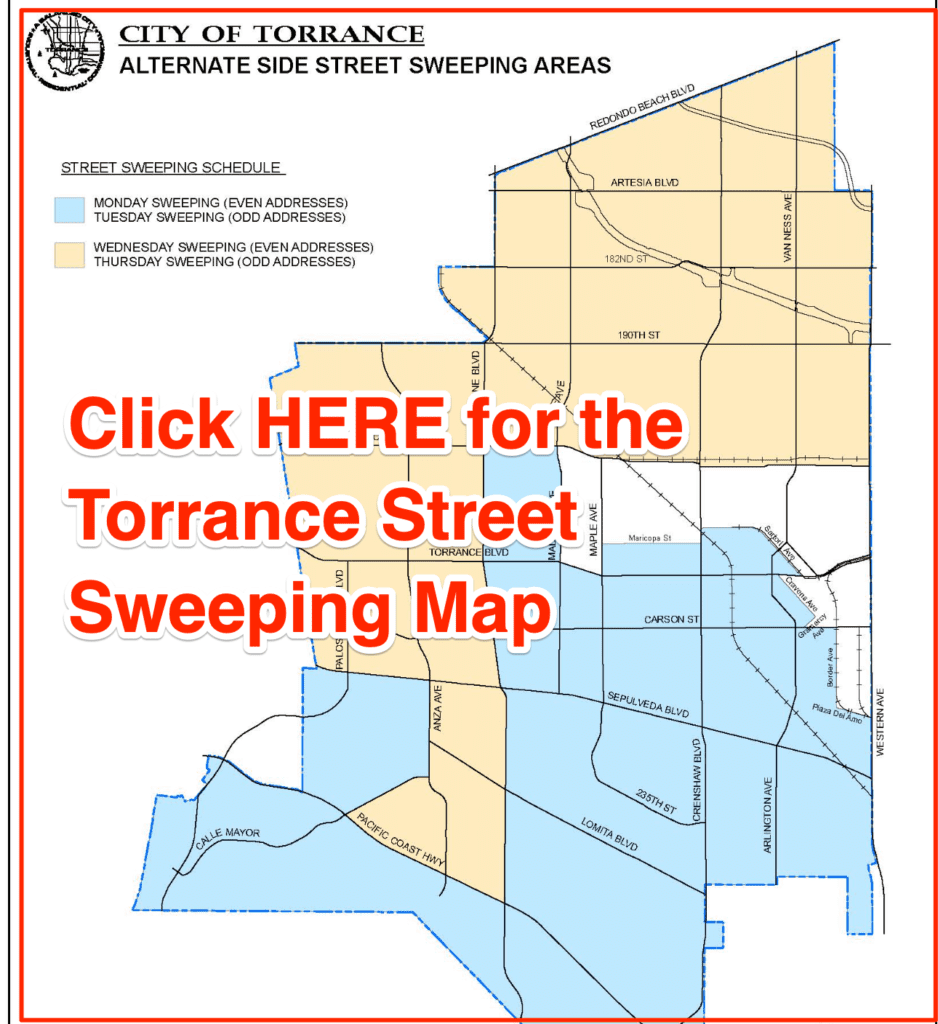 Holiday Schedule for Torrance Street Sweeping
Monday, January 16, 2023 Martin Luther King Jr. Birthday
Monday, February 20, 2023 Presidents Day
Monday, May 29, 2023 Memorial Day
Monday, July 4, 2023 Independence Day
Monday, September 4, 2023 Labor Day
Monday, October 9, 2023 Columbus Day
Friday, November 10, 2023 Veterans Day
Thursday, November 23, 2023 Thanksgiving Day
Friday, November 24, 2023 Day after Thanksgiving
Christmas Eve
Monday, December 25, 2023 Christmas Day (Observed)
New Year's Day
City of Torrance Twitter Updates
Follow the City of Torrance on Twitter @TorranceCA for more updates…
Street sweeping and parking enforcement in the City of Torrance is temporarily suspended until further notice. #TorranceCares pic.twitter.com/TuwABF86om

— City of Torrance (@TorranceCA) March 24, 2020
Torrance Parking Enforcement
What time does the sweeper pass?
In Torrance the streets are swept Monday through Thursday from 8am to 5pm.
Does the Street Sweeper Pass on Rainy Days?
Maybe. Street sweeping MAY be canceled on rainy days. It is advised that you still move your vehicle in accordance with the posted street signs.
Get a Parking Ticket (Citation)?
If you get a parking ticket it must be paid within 21 days of the citation date.
Payments may be made through the mail. Remit payment to the agency listed on the Original Parking Citation or on the Notice of Illegal Parking. Pay by Check or Money Order only, do not send cash.
You can also pay the parking ticket online at https://citationprocessingcenter.com/citizen-search-citation.aspx
Contact for Street Maintenance Division
Street Sweeping Jobs & Careers in Torrance
Did we miss something?
If you're looking for a street sweeping or cleaning schedule that isn't listed here, please let us know in the comments.
Also, occasionally our information gets out of date… if that happens, kindly let us know in the comments and we'll get the schedule updated. Thanks!