Here you'll find the Minneapolis street sweeping schedule and related info… like the sweeping map, when holidays affect street sweeping, and what to do if you get a ticket.
Minneapolis is located in Minnesota and is northwest of Milwaukee and Chicago.
Note: If there's a change to your normal street sweeping schedule then there's likely also a change to your trash pickup schedule.
Minneapolis Street Sweeping Schedule
There are multiple ways to find your street sweeping schedule if you live in Minneapolis.
Check the signage posted on your street. You'll see signs describing when you must move your vehicle for street sweeping.

If you live on a public street, street sweeping takes place twice per year:

[+] Spring – Started Tuesday April 19, 2023 and is now COMPLETE
[+] Fall- Fall street sweeping will be announced in early October 2022

Crews will post signs 24 hours before sweeping a street. There's no parking between 7am and 4:30pm OR until the signs are removed

If you live in a private community, gated community, or homeowners association (HOA) then it's likely that your street cleaning is performed by a private sweeping company (not the city). Contact your HOA representative to find out the schedule.
Minneapolis Street Sweeping Map
Use the interactive street sweeping map to see exactly which days your street will be cleaned. Click on the map below to access it.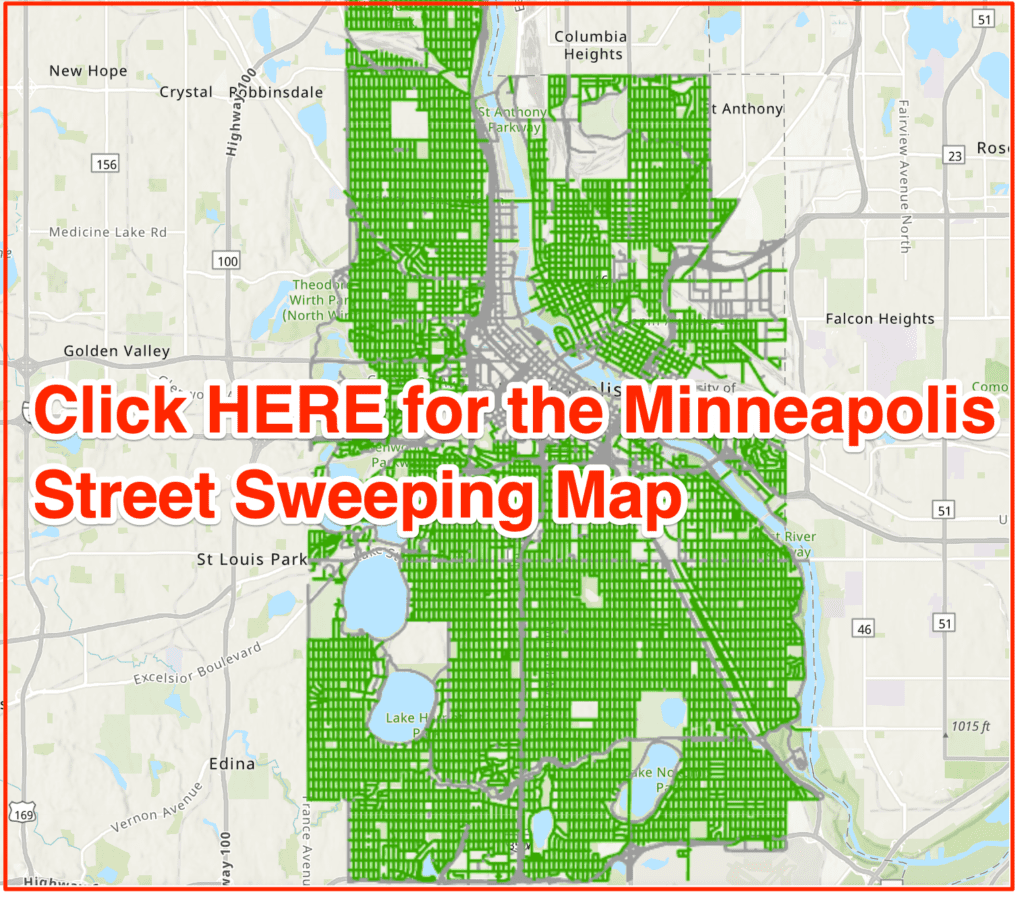 Holiday Schedule for Minneapolis Street Sweeping
Sweeping is only schedule to be done twice per year.
There will also be periodic sweeps done by the city but they won't affect parking or give out tickets.
City of Minneapolis Twitter Updates
Follow the city of Minneapolis on Twitter @CityMinneapolis for more updates
Due to yesterday's snowfall, street sweeping is canceled today and tomorrow, Oct. 21 & 22. Street sweeping will resume Friday, Oct. 23 if street conditions are favorable. Temporary "no parking" signs will be placed on impacted streets Thursday, Oct. 22 for Friday's sweep.

— City of Minneapolis (@CityMinneapolis) October 21, 2020
What time does the sweeper pass?
Street sweeping will take place between 7am and 4:30pm
Sign up for Phone & Email Alerts
Get alerts directly from the city about street cleaning, snow emergencies, crime alerts, city council updates and lots more.
You can sign up for alerts here: https://www.minneapolismn.gov/contact-us/sign-up-for-news-alerts/
Contact for Minneapolis Public Works
Phone: 612-673-2352
Address
City Hall
350 Fifth St. S.Room 203
Minneapolis, MN 55415
Hours
8 a.m. – 4:30 p.m.
Monday – Friday
The office is not open to the public at this time.
Did we miss something?
If you're looking for a street sweeping or cleaning schedule that isn't listed here, please let us know in the comments.
Also, occasionally our information gets out of date… if that happens, kindly let us know in the comments and we'll get the schedule updated. Thanks!