Below you'll find the schedule, map, holidays, tickets and job information for anaheim street sweeping.
The city of Anaheim and is bordered by Orange, Garden Grove, Buena Park, Fullerton, and Placentia.
Note: If there's a change to your normal street sweeping schedule then there's likely also a change to your trash pickup schedule.
According to the City of Anaheim, all streets will be swept on a weekly basis. Keep an eye out for warning signs that say "No Parking For Street Sweeping" if you're parking on the street.
Anaheim Street Sweeping Map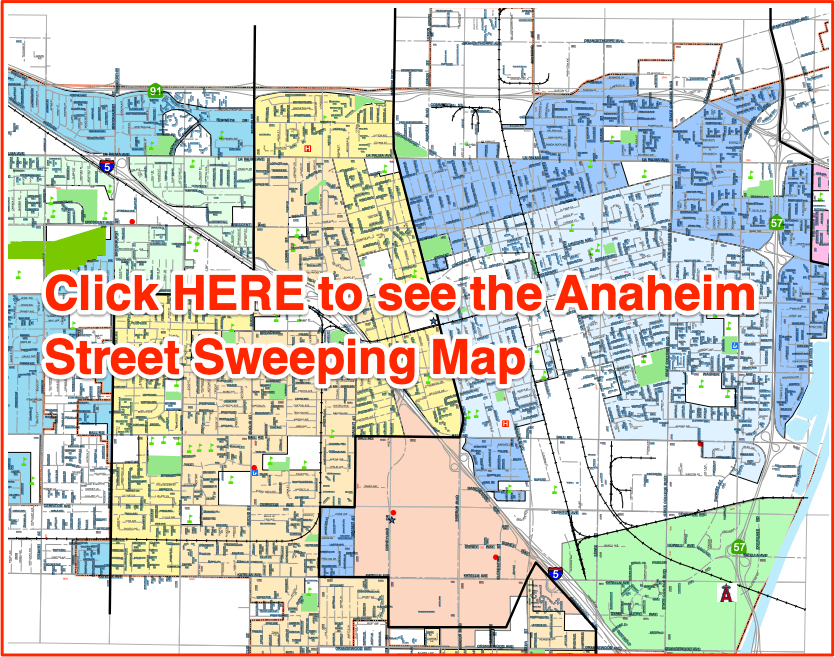 Here's the map of when your street is swept in anaheim: Street Sweeping Map PDF
Pay special attention if you're parking by Disneyland or California Adventure since enforcement seems to be even more strict in those parts of town.
Anaheim Street Sweeping Schedule
If you want an easier way to find out your specific street, go to this address finder tool provided by the city: >>Find your Trash Collection and Street Sweeping Days Tools<<
You'll need to find your street on the map provided to find out which day your street is swept and what time the street sweeper will show up.
Holiday Schedule that impacts street sweeping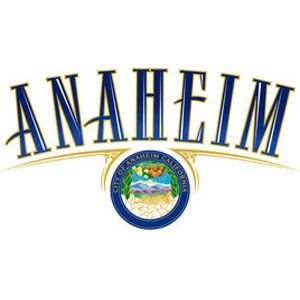 Below is the schedule of holidays when streets may not be swept:
Friday, December 31, 2021 New Year's Day (Observed)
Monday, January 16, 2023 Martin Luther King Jr. Birthday
Monday, February 20, 2023 Presidents Day
Friday, April 15, 2023 Good Friday
Monday, May 29, 2023 Memorial Day
Friday, June 17, 2023 Juneteenth (Observed)
Monday, July 4, 2023 Independence Day
Monday, September 4, 2023 Labor Day
Monday, October 9, 2023 Columbus Day
Tuesday, November 8, 2023 Election Day
Friday, November 10, 2023 Veterans Day
Thursday, November 23, 2023 Thanksgiving Day
Friday, November 24, 2023 Day after Thanksgiving
Monday, December 25, 2023 Christmas Day (Observed)
City of Anaheim Twitter Updates
Follow the City of Anaheim on Twitter @City_of_Anaheim for updates about sweeping schedule changes and other public works issues.
As we head into April, we've gotten a lot of questions about parking enforcement, especially for street sweeping, since so many of you are still staying home from work and school.

We continue to relax some enforcement of parking violations, including street sweeping.#COVID19 pic.twitter.com/O592ZzTQFQ

— City of Anaheim (@City_of_Anaheim) March 31, 2020
The City of Anaheim CA boarders Stanton, Garden Grove, Orange, Yorba Linda, Placentia, Fullerton, and Buena Park. If you're parking on the outskirts of the city, make sure to check the street cleaning schedule of surrounding cities incase you're over the city line.
Anaheim Parking Tickets
If you get a citation (a parking ticket) in Anaheim, CA you must respond within 21 calendar days of the issue date.
You are able to pay the ticket in 3 different ways:
Pay or Contest online at www.anaheimepay.net
Pay in person at 201 S. Anaheim Blvd, 1st Floor
Pay by phone (888) 255-9711
To inquire about the citation, you can call the number above as well (888) 255-9711
For the city of Anaheim street sweeping phone number is (714) 765-4444
Frequently Asked Questions
How much is a street sweeping ticket in anaheim?
A street sweeping ticket is $65.
What's the city of Anaheim street sweeping phone number?
Phone: 714-765-6860
What time does the sweeper pass?
Street sweeping in Anaheim takes place between 8am and 4pm, Monday thru Thursday.
Each street is either part of the "AM" shift and is swept between 8am and 12noon… or the "PM" shift and swept between 12noon and 4pm.
You can find which shift your street falls under by referencing the map above.
Does the Street Sweeper Pass on Rainy Days?
The answer is, "it depends!" If there is only very light or sporadic rain throughout the day, the streets will likely be swept. If there's a heavy rain and lots of water running in the gutters, street sweeping will be canceled.
According to the city, on days when there is rainfall, the city will determine if street sweeping will be on schedule by 7 am.
If you're wondering to yourself "does the street sweeper pass today?", it's best to safe rather than sorry. When it's raining in Anaheim, assume that street cleaning will take place until you confirm otherwise
When is trash pickup in Anaheim?
You can look up your trash pickup day by visiting https://trashschedules.com/anaheim-trash-schedule/
Street Sweeping Jobs in Anaheim
If you're looking for a job as a street sweeper in Anaheim there are a few places you can look for job openings.
The first place is through the city's careers page: https://www.anaheim.net/1954/Careers
A career in street sweeping can be a rewarding experience and doesn't confine you to work in an office building all day.
If you would rather work for a private company you can look for job openings on websites like ziprecruiter.com, indeed.com, or simplyhired.com
Did we miss anything?
We do our best to keep all the anaheim street cleaning information accurate and up-to-date. If we missed something or would like us to add something, please let us know in the comments.
Thanks!
Anaheim Postal Codes
92801, 92802, 92803, 92804, 92805, 92806, 92807, 92808, 92809, 92812, 92814, 92815, 92816, 92817, 92825, 92850, 92899